Like It Never Happened
by
Emily Adrian
Publisher: Dial Books
Release Date: June 2nd 2015
Genre: Young Adult, Contemporary, Romance, Realistic Fiction, High School, Chick Lit, Theatre, Fiction
Synopsis:
Stereotypes, sexuality, and destructive rumors collide in this smart YA novel for fans of Sara Zarr's Story of a Girl, Siobhan Vivian's The List, and E. Lockhart's The Disreputable History of Frankie Landau-Banks.
When Rebecca Rivers lands the lead in her school's production of The Crucible, she gets to change roles in real life, too. She casts off her old reputation, grows close with her four rowdy cast-mates, and kisses the extremely handsome Charlie Lamb onstage. Even Mr. McFadden, the play's critical director, can find no fault with Rebecca.
Though "The Essential Five" vow never to date each other, Rebecca can't help her feelings for Charlie, leaving her both conflicted and lovestruck. But the on and off-stage drama of the cast is eclipsed by a life-altering accusation that threatens to destroy everything…even if some of it is just make believe.
Charlie Lamb as Charlie Puth
Charlie Puth is gorgeous and I'm kind of obsessed with him and his music and his adorable smile right now. So when Rebecca got obsessed with Charlie Lamb, of course my imagination supplied the face of a Charlie that I was obsessed with.
Mary Rivers as Aubrey Plaza
Mary is described as this wild child. Crazy. Grunge. Druggy. Messed up kid who sneaks out a lot and gets drunk and fights with her parents and runs away to New York and doesn't talk to her family for years at a time. Then when we see her again. She's all cleaned up and practically a vintage model. I think Aubrey could play both of those roles.
Liane as Zendaya Amas
I actually pictured one of my college friends, JC, as Liane. Both Liane and my buddy are six feet tall, have curly dark hair, and a nose ring, and take-no-shit attitudes. If I could share an image of my friend, I would, but alas no. So I found the closest celebrity face that resembled JC, and behold, I PRESENT TO YOU LIANE!
Mr. McFadden as James McAvoy and that weird guy from Psych
Okay this one was tricky. Mr. McFadden was described as a 27 year old drama teacher who wasn't drop dead gorgeous, but he was handsome. Also his name starts with a "Mc" so my brain instantly went to James McAvoy. But then throughout the story his behavior would sometimes be weird. I got pedophile vibes from him. And he'd be awkward and sweaty and not make eye contact with people. And then other times he'd be smiling and have a real easy, laid back personality. So while reading his character, I was torn between imagining James McAvoy, and this sweaty dude from the show Psych, the episode about the deadly Thornburg virus.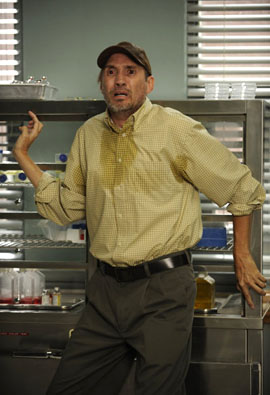 Rebecca Rivers as Audrey Hepburn and Lily Collins
She's an actress, and was compared to Audrey Hepburn in the book, so I kept that visual for when I read her story. But she wouldn't necessarily be Hollywood Glam Hepburn. She's more Hepburn in sweats and a ratty tshirt while laying in bed watching crap telly. And actually, now that I'm looking up Hepburn photos, I realize that she kind of looks like Lily Collins! So I'm casting Rebecca as Lily Collins too.
Control by Halsey (this whole album could be the soundtrack to Mary's life, honestly)
You're So Vain by Carly Simon (THIS SONG GOES OUT TO MY BOY CHARLIE LAMB)
Marvin Gay by Charlie Puth feat. Meghan Trainor (Rebecca Rivers and Charlie Lamb)
Emily Adrian was born in 1989 in the suburbs of Portland, Oregon. After graduating from Portland State University, she moved to Toronto, Ontario, where she worked as a receptionist while secretly writing books.
Emily currently lives in Toronto with her husband and their dog named Hank. Like It Never Happened is her debut novel.