top ten tuesday
Top Ten Tuesday- Books On My Fall TBR List
10:19 AM
I saw this top 10 tag going on a few weeks ago where people would posts which books they most want to read this coming Autumn. Now, mos...
I saw this top 10 tag going on a few weeks ago where people would posts which books they most want to read this coming Autumn. Now, most of those books involved newly released and most anticipated reads. The books on my list aren't necessarily books coming out in Fall 2015, but they are books that I want to read throughout this season. Starting with, and in no particular order,
Everywhere I look it's "Gansey" this and "Gansey" that. What the hell is a Gansey? I MUST FIND OUT! (Currently two chapters into The Raven Boys)
2. Throne of Glass series
I HAVE finally managed to read the first book in the series (review coming soon), and I absolutely loved it. I JUST NEED TO PICK UP THE REST OF THE SERIES.
This is my number one must read! I absolutely LOVE the world Bardugo has created, and I can't wait to see what else she does with that beautiful Russian inspired realm. Can't wait to meet the new characters!
Seen the books everywhere. Still don't know what they're about. A cyborg princess? WUT?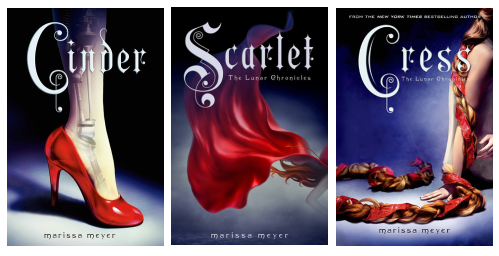 5. Parasol Protectorate series
I've read the first book, and I have an interview with the author set up in a few weeks! My co-blogger, Ace, has read all the books and she adores them, and I loved the first book, and ugh, I just need to get on with it and embrace the rest of these beauties!
6. Daughter of Smoke and Bone series
Read the first book like, two years ago. Recently on my twitter stream I've seen a lot of people starting to pick these books up for the first time. I remember loving the first book, and seeing everyone else read them is bringing back good reader-feelsy memories.
7. The Selection Series
This is another one of those series where I just seriously need to get with the times and see what all the fuss is about.
8. Never Always Sometimes
I just won this book in a giveaway! I love fun contemporaries, and this one's got a list! And romance! Can't wait to dive.
9. The Remnant Chronicles
I've actually read 1/4 of the first book. Didn't finish it. Maybe it was the mood I was in or something, I don't know what, but the first book just didn't strike a chord with me. I feel like I'll need to give this series another chance at some point though. Why not this autumn?
I AM SO EXCITED FOR THIS BOOK! Can westerns (and pirates, but that's a different subject) be the new Young Adult craze please? I want grit and showdowns and ruggedly handsome men galloping in to save some dusty railroad town! Also look at that cover. It's gorgeous. Bless.
So what books are your most anticipated reads?
What books do you just need to read so you can join in on all the fangirling?
Let me know in the comments!