contemporary
review
romance
young adult
Emmy & Oliver Review || *Sips wine* Ah nice romantic flavor, can really taste the humor infused spices, great aftertaste... but it's missing... something...
11:02 PM
Author: Robin Benway Series: N/A Publishing Date: June 23rd 2015 Genre: young adult, contemporary, romance Emmy's best friend,...
Author:
Robin Benway
Series:
N/A
Publishing Date:
June 23rd 2015
Genre:
young adult, contemporary, romance

Emmy's best friend, Oliver, reappears after being kidnapped by his father ten years ago. Emmy hopes to pick up their relationship right where it left off. Are they destined to be together? Or has fate irreparably driven them apart?Emmy just wants to be in charge of her own life.
She wants to stay out late, surf her favorite beach—go anywhere without her parents' relentless worrying. But Emmy's parents can't seem to let her grow up—not since the day Oliver disappeared.
Oliver needs a moment to figure out his heart.
He'd thought, all these years, that his dad was the good guy. He never knew that it was his father who kidnapped him and kept him on the run. Discovering it, and finding himself returned to his old hometown, all at once, has his heart racing and his thoughts swirling.
Emmy and Oliver were going to be best friends forever, or maybe even more, before their futures were ripped apart. In Emmy's soul, despite the space and time between them, their connection has never been severed. But is their story still written in the stars? Or are their hearts like the pieces of two different puzzles—impossible to fit together?
LORD ALMIGHTY I'M IN LOVE WITH THIS BOOK! I'M CRUSHING ON IT! I FEEL LIKE I'VE MET A NEW PERSON THAT I REALLY WANT TO BE BEST FRIEND'S WITH BUT WE JUST MET SO THERE'S STILL SOME BOUNDARIES! You know what I mean, jelly bean? I really really really like this book but I can't quite stop staring at it in awe long enough to intelligently get across WHY I love it.
BUT LIKE AT THE SAME TIME IT WASN'T A GROUNDBREAKING NOVEL! Some people might read this and be like, "Wtf was lil SJ screaming about? It's literally just a typical contemporary young adult romance novel."
Uh, false, friend! It's not typical. It's wonderful. Because it's life. This book is truth. It's called Emmy & Oliver, but it could also be called, "Scenes pulled from your life and compiled into a novel and starring different people BUT IT'S STILL PRETTY MUCH A NOVEL ABOUT YOU." Robin Benway didn't call it that tho because the cover couldn't fit that many words.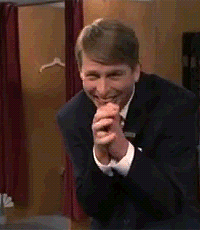 So anyways, in case you didn't read the pink blurb above (for those on mobile, it won't be pink. It's just a blurb. I'm sorry your mobile blurb isn't fun. Get on a computer)- Emmy and Oliver are childhood best friends. Oliver goes away for ten years. He comes back. Emmy is like, "YOU'RE BACK BEST FRIEND!" Oliver is like, "...who you?"
There wasn't some deep, philosophical, pretentious message surrounding this story. It was just life. Friends go away. It's awkward when they come back. Parents are a big part of our lives, and they aren't perfect. Friends have their own drama you have to deal with. Children lie to their parents and get caught.
It was just so incredibly real. Reading this book was like reading a reflection of my life (minus the whole Oliver ordeal).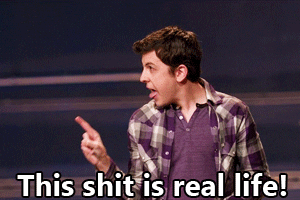 I related so hardcore to Emmy and her parents. I WAS JUMPING UP AND DOWN AND FLAILING WITH EXCITEMENT BECAUSE "OH MY GOSH THAT THING EMMY'S MOM JUST DID IS WHAT MY MOM DOES!" "I'VE HAD THAT INTERACTION WITH MY DAD BEFORE!" "UGH MY PARENTS DO THAT TOO!" (fun fact: my blog and twitter used to be a secret from my parents because I was certain they'd have a heart attack over the fact that I'm "all over the internet posting personal details about myself and just inviting deranged individuals to harass me" SO I DEFINITELY FEEL EMMY ON THE PROTECTIVE PARENTS BIT)
Her relationship with her friends! They aren't a mismatched group who've grown apart. They aren't just friends because they grew up together. They aren't side characters who push Emmy through life. Drew and Caro are truly Emmy's brother and sister. They have their well developed own personalities and stories. Emmy helps THEM through life, just as much as they help her. I loved reading that, seeing friends actually be friends. They don't get hurt over stupid things. They get hurt over legitimate things, and the friend who's being hurtful REALIZES WHAT THEY ARE DOING AND OWNS UP TO THEIR FAULTS! THAT is friendship!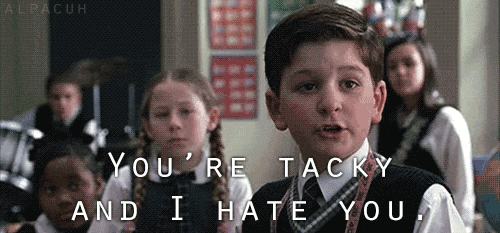 AND THEY DO THEIR SCHOOLWORK
AND DRIVE CLUNKY CARS
AND HAVE AWKWARD, FUNNY DIALOGUE
AND ME AND EMMY BOTH HATE A DOUCHE CANOE NAMED BRANDON!
However, throughout this book, no matter how much I loved it, something was kind of off for me. I can't put my finger on it. Do you ever eat something and it's missing an ingredient? A spice or something? It doesn't taste bad, it's just not quite right or the best it can be. And you don't know what ingredient could bring it to that level of perfection. I felt that way about this book. I liked the romance. I liked the humor. I liked the relationships. The characters. The setting. The realities and details. BUT SOMETHING was off, and holding me back from loving it fully.
Perhaps the dialogue was too perfect? Like, Emmy always said she was awkward and terrible at having conversations. I'm the same way too. However, Emmy talked just fine with everyone she interacted with. She always said SOMETHING, and a conversation, even if it was bizarre, got going. As an awkward terrible conversationalist, I was in awe of her. Because when I don't know what to say, I don't speak. I just sit there awkwardly. And there is no conversation.
So anyways! Yeah, throughout the book I was like, "eeehh something's weird!" And I felt sure I'd end up rating the book 4 stars at the highest. 3 at the lowest.
BUT THEN THE ENDING HAPPENED AND IT BROUGHT ME TO TEARS! THAT LAST SENTENCE CHOKED ME UP AND MADE MY CHEST TIGHTEN!
SO NOW I'M RATING IT
Can't quite bring myself to make it a full 5 stars because SOMETHING IS STILL NOT QUITE RIGHT! Perhaps it was my mood. Idk. YOU read it.
IF YOU HAVE REVIEWED THIS BOOK, DROP THE LINK IN THE COMMENTS! I want to comment on it! :)